As a modern spin on the old Agatha Christie whodunnits, Knives Out is a zippy, snappy change of pace.
The Game Is Afoot
Movie credits
Director
Actor
Screenwriter
Movie facts
Running time
130 minutes
MPAA rating
PG-13
Year released
2019
Denver Film Festival 2019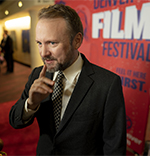 It was a big night for local hero Rian Johnson, who made a record third Opening Night appearance at the Denver Film Festival. The recipient of this year's John Cassavetes Award, Johnson also presented his latest movie, Knives Out.
Check out photos and more from the Opening Night festivities.
Surely it was only a matter of time in this content culture that repeatedly mines and reboots old properties. One successful big screen Batman reboot leads to a troubled reboot which leads to another reboot moving in a totally different direction. Plus, there are Batman spinoffs on broadcast TV and streaming media.
And that's just Batman. Pick a property and it's ripe for revisiting. Fantasy Island will return next year — but this time with a spin that's leaning more toward horror than fantasy.
Going back further, though, there was Agatha Christie and she's finally getting some time back in the sun. In 2017, Kenneth Branagh remade Murder on the Orient Express and crafted a terrific vintage tale mixed with modern sensibilities and the latest in movie tech. Most importantly, he found the emotional core of the story. As a reward, Branagh's impeccable take on Hercule Poirot will deservingly return next year in Death on the Nile.
The whodunnit business is picking up.
And Rian Johnson's now made his contribution that plays off all of the classic tropes and, as such, it offers solid entertainment value in its own right. Once again, it's time for audiences to think things through, connect the dots and put the puzzle pieces together. It's time to exercise the synapses.
Most importantly, it's time to appreciate a wholly original work. This one's not a reboot, a remake or an adaptation.
Blood Like Wine
For starters, consider the ludicrously talented cast. This is an all-star extravaganza. Front and center is Daniel Craig (Skyfall) as Benoit Blanc, a private investigator with a silly southern gentleman's drawl. He's been hired — by an anonymous client, no less — to size up a family in the wake of the patriarch's death. As he puts it, he is a passive observer of the truth.
That patriarch was a mystery writer named Harlan Thrombey (Christopher Plummer, All the Money in the World). Harlan's created a publishing empire that has remained decidedly old-school. He hates adaptations; he's made his millions on book sales alone, never selling rights to movies, TV shows or stage productions. Even e-books are a growth opportunity for Blood Like Wine's license to print money.
Plummer's 89 years old and still in fine form. Here, Plummer plays a man celebrating his 85th birthday with family when, one dark night, things go awry. His nurse, Marta Cabrera (Ana de Armas, Blade Runner 2049), fears she killed him with an accidental morphine overdose.
But maybe it was suicide.
Or maybe it was cold-blooded murder.
Clue
The list of suspects is long. Really long. In classic Christie fashion, pretty much everybody in the family has a motive.
And that's all part of the fun. Watch as this family of beautiful people tears itself apart with greedy claws grabbing at Harlan's empire. Everybody stabs everybody else in the back. Figuratively, of course.
Among them, Richard Drysdale (Don Johnson, Book Club), who may or may not be having an affair while married to Linda (Jamie Lee Curtis, Halloween). They have a spoiled brat for a son, Ransom (Chris Evans, Captain America: Civil War), who may or may not have left the birthday party in a huff after having been told he's been cut from Harlan's will.
There are so many more. Walt Thrombey (Michael Shannon. The Shape of Water) might've been told he's no longer going to run Harlan's publishing empire. That'd leave him all on his own, in need of a new career – or at least a new job.
The embarrassment of riches in the cast continues with Toni Collette (The Sixth Sense) as Joni Thrombey, an entrepreneur struggling to keep her business and family afloat, and Jaeden Martell (It) as Jacob Thrombey. Jacob? Well, he's the weird kid in the family. Also look out for cameos by Frank Oz (legendary Muppeteer) and M. Emmet Walsh (Blade Runner).
As the family's individual stories are revealed, all have had conversations with Harlan. All revolving around their status in the family. Who said what and when? Who's been jilted? Or was Harlan simply playing a game with everybody? There are so many threads for Benoit to unravel.
Sleuth
The only person missing in this mix is Agatha Christie herself. This is an original story written and directed by Johnson (Star Wars: The Last Jedi), but at the movie's premiere headlining the opening night of the Denver Film Festival, Johnson readily admitted the work is indebted to Christie's greatness and lasting impact.
A self-described murder mystery junkie, Johnson puts his thorough knowledge and understanding of the genre on display in Knives Out. It's the stuff of a modern classic, or at least that's where it'll likely land further down the road.
Fairly early on, there's a sinking feeling the resolution is too obvious. But that's part of the game. The story becomes more complex, with a suitably intricate resolution that makes sense — although, maybe it could have been a bit trickier. Nonetheless, Johnson takes advantage of his marvelous chess board of characters and packs the proceedings with generous doses of humor and character affectations.
While playfully juggling this busy dance card of an almost unwieldy ensemble cast, Johnson throws in an unnecessary subplot involving Marta's immigrant family. It's a stab (sorry) at social commentary that doesn't quite work; it's a little forced and it's entirely unnecessary, to boot. Nonetheless, Marta's situation is also tied to an amusing running joke in which her home country is repeatedly misidentified as one of any number of South American countries. This whole theme becomes a point and counterpoint of ignorance. Ultimately, that very well might be the point of it all.
Still, there is one little piece that could've been explored more.
At one point, it's noted Harlan had a game he'd play with each family member, including Marta as a member of the extended family. For her, that was the strategy game Go. Veiled references are made to other family members' games. The more you played along with Harlan, the more he liked you. This is a clever concept that plays out well, to a certain extent. But, certainly, there was another revelatory twist or turn that could've been plucked from this nifty idea.
It's a nit, though. As it stands, Knives Out is the kind of movie that offers plenty of replay value. And maybe more of those games will be revealed upon closer inspection.